You Are Here is a documentary that goes deep into the community of Gander, Newfoundland where 38 airliners carrying over 6,500 passengers were forced to land after the terrorist attacks on 9/11.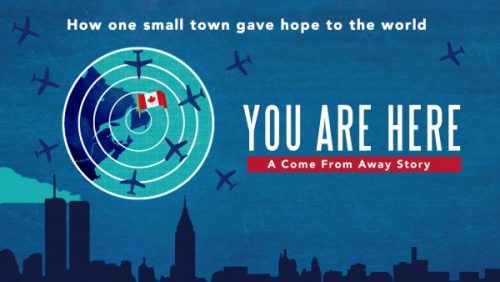 Tulsa, United States - July 19, 2019 /PressCable/ —
On September 11, 2001, global chaos ensued as the World Trade Center Towers came crashing down, and the fate of airline passengers en route to America was literally thrown off course. When 38 planes carrying 6,500 individuals arrived at Gander, Newfoundland, the eastern-most point of North America, the small Canadian town came together to host a group of strangers who would leave as family. YOU ARE HERE, from award-winning producer Peter Gentile, which was influenced by the same events that inspired the hit Broadway musical Come From Away, will show in nearly 800 U.S. movie theaters as a one-night event on September 11, 2019.
Our story began when U.S. airspace was completely shut down in the hours immediately following the terrorist attacks on September 11, 2001. All civilian airliners within reach of the United States were ordered to land at the nearest airport. Thirty-eight of those planes landed at the Gander airport in Newfoundland & Labrador , Canada.
With no warning and with no time to prepare, Gander, a city with a population of only 9,000, realized that 6,500 passengers would soon have to come off the grounded planes. The people of Gander and surrounding communities across the province of Newfoundland & Labrador quickly started gathering everything they could to prepare and welcome their unexpected guests.
Gander and the surrounding communities played host for five long days to 6,500 frightened, exhausted and hungry passengers from around the world, housing them in their homes, schools and churches.
This remarkable story was largely a footnote in the aftermath of 9/11 but has now been brought to life in the most unexpected way possible: a live stage musical, titled "Come From Away." The show became one of the most talked about openings in the recent history of Broadway and generated a great deal of discussion about the need for compassion and unity in the midst of one of the most divisive periods in socio-political history.
Gander, Newfoundland, is a tiny island in the middle of the Atlantic, and as the closest North American land to Europe, it has welcomed strangers who have "come from away" – as they call their visitors – for centuries. However, the Gander citizens had never rallied together so quickly as they did on 9/11, when thousands of passengers arrived not knowing what had happened to New York during their flight or where they had landed to find safety.
To learn more about how you can watch this film near you, go here, and pick your preferred theater.
Contact Info:
Name: Jacob Self
Email: Send Email
Organization: MDF Production
Address: 36 E Cameron St. Tulsa, Tulsa, Oklahoma 74103, United States
Website: https://www.youareheredoc.com/
Source: PressCable
Release ID: 88898530