The average age of tech upstart founders is 39, but twice as many entrepreneurs are over 50 vs. under 25, prompting one entrepreneur to ask 'Who Makes the Best Solopreneurs?'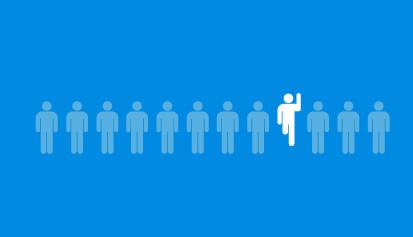 Prescott, United States - December 3, 2019 /PressCable/ —
At age 49, author and inventor David Bynon, now Publisher at MedicareWire.com, fell prey to the Great Recession of 2008 and started down the long road to create a new career for himself. A victim of his own doing, Bynon says that the recession was particularly hard on older Americans.
"After running two successful business, I never dreamed I would find myself on the outside, penniless, in serious debt, and facing foreclosure. But that's exactly what happened," Bynon said. According to the St. Louis Federal Reserve, as many as 10 million Americans are believed to have lost their homes during the Great Recession.
After two years hunting for a decent job in information technology, his former career in the Navy, Bynon gave up and decided to start over again with his own business, this time as a solo entrepreneur ("solopreneur"). "I went to interview after interview, but every company I interviewed with wanted to hire recent college grads with little or no experience. It makes no sense," he exclaimed.
In his 2015 LinkedIn article, "Who Makes the Best Solopreneurs? The Answer Might Surprise You," Bynon writes "Isn't it interesting, then, that Steve Jobs was 50 when he came up with the idea for the iPhone? Regardless, the business and investment world seems to be convinced that the next Facebook, Microsoft or Google business idea will come from a twenty-something, not a middle-aged person with experience."
Bynon's article, which has now been read by more than 20,000 LinkedIn members, struck a chord with older adults facing similar employment issues. With over 100 comments, ranging from "Great article!" to "Life changing!", Bynon says that it's never too late to start over and reinvent yourself, as this report on tech and entrepreneurship confirms.
Charles R. Merredew from Natural Stone Features comments, "Waiting until you can afford to start your own business invariably means never getting started. Fear is a great motivator in the sense that if you recognize what it is you are afraid of and move towards it the closer you get to it the less daunting it seems. These are good metaphors but the key is to move forward daily, recognize what you have to do and if the one thing that you are most unwilling to do is knock on a door and ask a total stranger for business then that is the first thing you should do every day until you conquer it. What is your passion, what motivates and charges you up, what are you most afraid of? Age or money must not be a barrier to this. Pushing forward takes guts and spirit what successful endeavor doesn't."
Bynon seems to agree, saying "It was my fear of failure that put me on the path of looking for employment instead of getting to work building another business."
Michael Fletcher, CPA, shared "I'm sure people have heard of the aphorism: Find your passion and the money will follow. My response to that is: I'm a slow learner: it took me 45 years to figure out what my passion is! I wouldn't be able to teach financial literacy the way I do now, without math and without bookkeeping if I hadn't had thirty years of practical experience in a whole variety of places and industries to observe what people do and do not understand about the topic. Innovative thinking, ideas and approaches may come as a bolt from the blue for some people but I think as often come from experience and insight, something that only comes with age."
Finding your passion is a common theme in the article's comments, with many readers saying they wished they'd discovered it sooner.
Now age 60, the author says "The interesting thing is that I had zero knowledge or experience in Medicare when I started the website. What I had is a BIG IDEA, internet marketing experience, and decades of experience working with databases and programming computers. By putting them all together, and focusing on my love of inventing, I created a website that competes in Google search with the big boys, like Humana, UnitedHealthcare, AARP, Aetna, Cigna, and Blue Cross Blue Shield." He encourages anyone thinking about a solo or home business to go for it, because there's never been a better time to work for yourself.
When he's not answering questions about Medicare health insurance on Quora, you'll find David Bynon out on the open road on his Harley-Davidson motorcycle enjoying his new-found freedom as a solopreneur.
Contact Info:
Name: David W Bynon
Email: Send Email
Organization: MedicareWire
Address: 101 W Goodwin Street Unit 2487, Prescott, AZ 86302, United States
Phone: +1-800-577-8638
Website: https://MedicareWire.com
Source: PressCable
Release ID: 88936985